Author: Mostly Evan
2019 - Thanks for the memories !!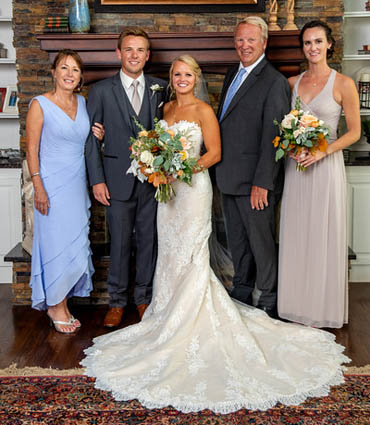 Season's Greetings to All! Our 16th Christmas newsletter!

Right: Katie, EJ, Rachel, Evan, and Erika

2019 started out much the same as 2018...we spent Christmas with Katie's family in Michigan, then New Year's in Bonita Springs at Mona's place. January found us with Steve & Bonnie for our 3rd (possibly annual) Puerto Vallarta trip - except this time, Mona & Berna joined us for a sun-filled beach vacation.

In February, it was back to Bonita Springs to Mona's place - are we officially snowbirds yet? During that time, EJ & Rachel joined Erika in Colorado where they spent two weekends skiing various resorts including Breckinridge and Vail. Then we were off to Orlando in March for our 28th traditional family spring break, this time with EJ/Rachel and Erika and Mona with her family. Luckily EJ & Rachel were already in Orlando for a convention.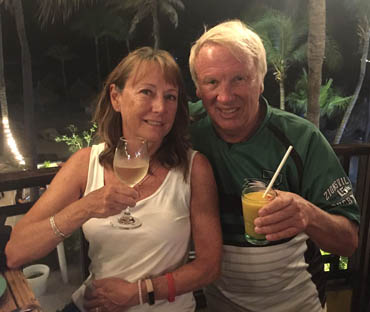 Left: Katie & Evan in Aruba
April brought a trip to Chicago to catch up with Evan's brother Doug. In May, Katie went to Bonita Springs again with Mona, since they needed a little more beach time. Springtime had us trying our hand at golf...not sure that's a keeper sport yet. EJ helped organize Purdue's EV Grand Prix in May at the Indy Motor Speedway again. View the race HERE as recorded from the back of the Tower Terrace by Evan...and a promo video that EJ helped create HERE.
Interestingly, with EJ & Rachel's upcoming wedding, they decided to forgo a large expensive honeymoon, and instead put those funds toward half of a Class B RV motor home (with Katie & Evan "investing" in the other half). It is now appropriately named: Honeymoon! Katie & Evan drove it to South Haven in late May for our "2nd honeymoon," this time camping!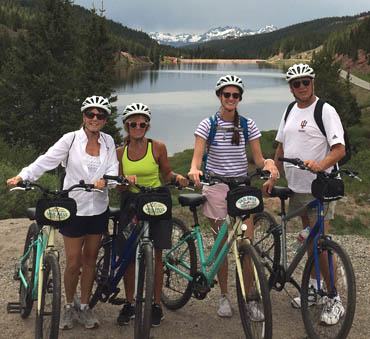 Right: Katie, Mona, Erika, and Evan in Vail
Speaking of Honeymoon, in July, Evan, Katie, & Mona (our travel buddy) drove Honeymoon (the RV) to Colorado to meet up with Erika who still resides in Denver. Later in August, to celebrate Evan's BIG birthday, and complete his 50-state bucket list, we flew up to Anchorage where we met up separately with ol' ruggers Tim Thomas then Peggy (Webb) Johnson. Great seeing Peggy after 45 years. We then went a little further north to Talkeetna...the inspirations for the old TV series; Twin Peaks.
September generated many good memories...with EJ marrying his college sweetheart, Rachel Terrell. The venue was at Doug & Jean's home, Rachel's parents...with the rehearsal dinner upstairs at Wolfie's on Geist Lake. You really gotta checkout this SHORT VIDEO of the wedding. It's neat!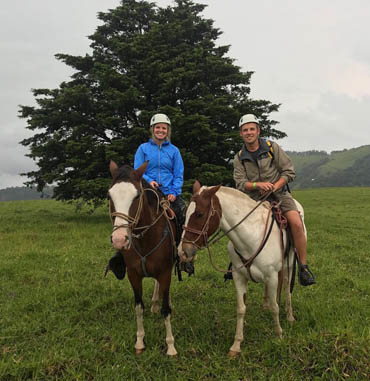 Left: Rachel & EJ in Costa Rica
Before the wedding, EJ travelled to Montreal with ten of his buddies for a five-day bachelor party. Rachel enjoyed a long weekend in Saugatuck with Erika and her other bridesmaids. After their wedding in September, EJ & Rachel decided to go on an actual honeymoon to Costa Rica where they rented a car and traveled to three different cities. On their list of activities: 4-wheeling up a volcano, zip-lining through mountains, hiking to giant waterfalls, sailing & snorkeling off a yacht, and surfing.
After a wedding bash like that, we just kinda skated through the rest of 2019 - well, except for our 3rd (hopefully) annual trip to Aruba along with, you guessed it, Mona. For Christmas, we're heading to Novi, Michigan yet again...then off to Bonita Springs to bring in the New Year with a whole bunch of Indy friends who now "winter" in Bonita.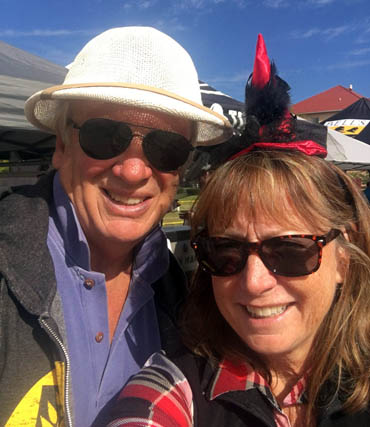 Right: Evan & Katie at the Hoppy Halloween Brewfest
Evan is now in his 15th year as IT Manager at VS Engineering...but now works remotely after Tuesdays each week. He also completed his mission to hit all 50-some microbreweries in the Indy area adding 5 or 6 Brew Fests into the mix, too.
Katie is in her 3rd year now handling the social media for a small executive coaching & team building company, Vida Aventura. After seeing all the renovation EJ & Rachel are doing to their house, She is also on a mission to upgrade our "old" house...painting, new patio, new kitchen counters, four Alexa Echos, etc.
Erika is in her third year in Denver...living in her own condo downtown. She's in her 5th year at Avant Credit. As put best by her old friend Payahm, she's never in Denver...either back in Chicago (for a week once a month for Avant) or in the mountains. Her travel wanderlust has taken her this year to Australia, New Zealand, and Moab, Utah along with many local Colorado adventures. Again this winter, she has rented a "ski share" condo/chalet in the mountains with friends where she plans to stay most weekends after long days of skiing.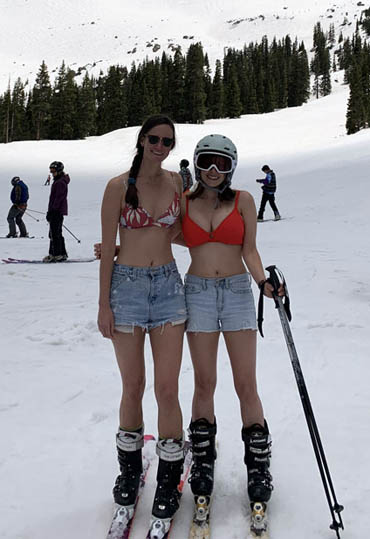 Left: Erika and Camille spring skiing in June at A-Basin
EJ and Rachel are enjoying the "perks" of home improvements with their "new" (1929) house in the Warfleigh neighborhood (Broad Ripple area). EJ claims they are a "DeWalt family" now with all his new shiny tools. Do we see Tim the Toolman envy? So far on their accomplishments: new kitchen countertops & backsplash, new "man shed" in the backyard, finishing the garage, and staining their exterior decks.
EJ is still handling business development for Rachel's father's Jiffy Lube empire. He wears many hats in that job which must be why he likes it so much...marketing, IT, building maintenance, process improvement, and anything else that goes into running a 90-person company. You can say he's really using that engineering degree of his...he calls himself a "business engineer."
In November, EJ was elected to the Board of Directors of our sailing club at Eagle Creek. He will be handling the website and the monthly newsletter, just as Evan did for 16 years many many eons ago. Also never far away from Purdue organizations, EJ was asked by the Purdue Sailing Team to be their coach.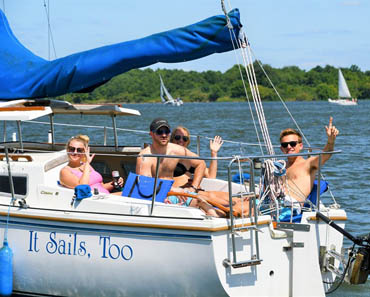 Right: Torrey, Jon, Rachel, and EJ at Eagle Creek
Rachel is in her 3rd year as a registered nurse in the ER in Eskenazi downtown Indy...as Abbey, her maid of honor puts it, "Rachel saves lives for a living." Rachel also spends considerable time with EJ working on business development and updating of their Jiffy Lube stores...and, on the sailboats at Eagle Creek! Lastly, it would be remiss without mentioning EJ & Rachel's own little fur-baby: Dwight. The weirdest and most cuddly cat you'd ever meet.
Below is a pictorial of many of the events throughout this last year.
We hope you and your family enjoy the Christmas season and most of all, be sure to enjoy New Year's Eve...Evan's favorite holiday!!
Evan, Katie, Erika, EJ, and Rachel Williams
---
More Pictures

Katie in Anchorage


Evan & Katie in Talkeetna


Erika, Rachel, & EJ in Breckenridge


Rachel & EJ in Breckenridge


Nancy, Nan, & Katie on Eagle Creek


Katie tending the sails on Eagle Creek


Evan at the Hoppy Halloween Brewfest


Evan & Katie at the Harry Potter Brewfest


Rachel on Morse Reservoir


EJ on Morse Reservoir


Jon, Rachel, Torrey, and EJ on Eagle Creek Reservoir


Evan & Katie with ol' rugger Tim Thomas in Anchorage


Evan with ol' rugger Peggy Johnson in Anchorage


Katie & Evan at the State House for Lynn & Dave's daughter's wedding


Larry & Melissa with Katie & Evan on the windy deck at Regions Tower


Erika on Eagle Creek Reservoir


Erika & Joey at some Denver shindig


Katie & Evan at Moontown's Octoberfest...Evan won the best costume


Katie & Evan at the Bloomington Brewfest


Evan in Vegas for a USA 7s Rugby tourney


Evan hanging with the 7s world rugby MVP, Perry Baker


The crew at Schubie's Celebration of Life


Katie with the slab "she" picked out


The slab just mounted onto our kitchen counter


Mona and Evan at Doc's in Bonita Springs


Donna, Jane, and Katie at Maggie's wedding


The whole crew at our timeshare condo in Royal Palms (Orlando)


Katie & Evan with Honeymoon in Colorado


Evan, Erika, Mona, and Katie at Red Rock near Denver


Our sailboat decked out for a dock party at Eagle Creek Sailing Club


Katie with her birthday presents


EJ taking Torrey for a ride


Rachel, EJ, Torrey, Cara, and Evan at the Drumstick Dash


Evan & Katie hosting Kettering grads at the Hickory Hall Polo Grounds


Mona, Evan, & Katie in Aruba


Evan next to "his" bourbon barrel at KSR


The Ev Grand Prix track at the Indy Motor Speedway


Evan with Kan Suzuki (and his wife) and Denny at Connor's Pub


Evan & Katie with Steve & Bonnie in Puerto Vallarta


Dell & Evan with "Dell's" Dead Lizard beer


Evan, Katie, Rachel, & EJ at Torrey's "wurst" Birthday Bash


IU alumni rugby game


EJ at one of his Jiffy Lube tents


EJ & Rachel's child, Dwight


Evan & Katie at Cobblestone facade rehab...still showing the Green Apple underneath - where we had our rehearsal dinner back in 1984


Dena, Chris, & Evan at Deviate where all our harvested hops plants were picked for that bag of hops cones and hence used in one of their beers


The whole crew in Bonita Springs for New Years at the Island House


The Ladies' Regatta participants at our Sailing Club


Evan saying goodbye to our 20 year old ManVan - we donated to some veteran's group


The whole wedding party


The wedding from the rear


Mrs. & Mr. Williams


Wedding dance


The Groom-Mom dance


The vows


The wedding couple


Erika & Rachel


Jean & Doug Terrell with Rachel


Evan & EJ


The wedding party


EJ and sister Erika


Evan with his Round Tuit


EJ walking his parents down the "aisle"


EJ and Rachel performing the weather ritual - burying a bottle of whiskey at the wedding site a month before the wedding to guarantee good weather


The posed gaze


Watching the 25-minute fireworks show


Most of the reception participants


Rachel lamenting her driving skills on their honeymoon in Costa Rica


Rachel posing by a waterfall in Costa Rica
---