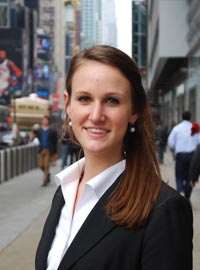 2012 started off for Evan, EJ, and friend Josh once again in South Beach enjoying the revelry on Ocean Boulevard. Erika had just gotten back from Italy and needed some down time before heading back to IU. Katie stayed home with her.
Right: Erika in the Big Apple
We headed right back to Florida for Spring Break...this time EJ to Ft. Lauderdale with 6 or 7 of his friends while Erika went to Orlando with Katie and Evan along with sorority-sister friend Hannah.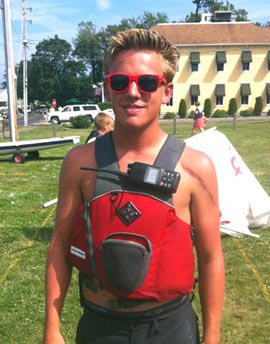 Spring semester had EJ joining a fraternity at Purdue (Delta Chi), and getting involved with the Electric Vehicle Grand Prix. He also joined a group of kids who ended up designing and building their own battery-powered go cart that ended easily winning both the Purdue EV Grand Prix and another International EV race held at the Indianapolis Motor Speedway in May.
Left: EJ running the PIB Sailing Camp
EJ also helped finish up his high school senior project...completing work on a Segway using facilities at Purdue. His interests seem to mirror his major; Electrical Engineering.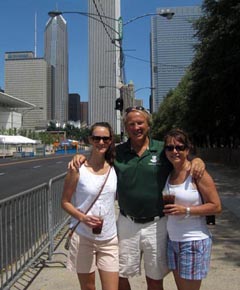 Meanwhile, Erika was settling back into her sorority house after living in Italy last fall (of 2011). She then went through interviews for internships for the upcoming summer. She landed one in Chicago at Macquarie Capital.
Right: Evan & Katie visiting Erika in Chicago
Earlier this year, both kids returned to Indy for the Super Bowl weekend...had quite an evening the night before at the Katy Perry concert and celebrating all night with family friend Mark Cuban.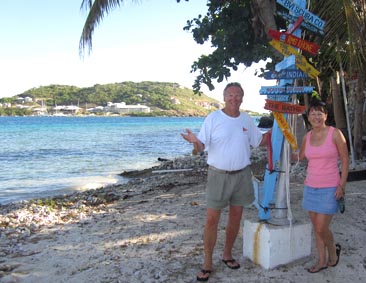 Summertime found Erika living at the Buckingham apartments in downtown Chicago. She appears to be migrating towards an urban lifestyle for her career. EJ took off for Put-In-Bay where he was the head instructor for their Yacht Club's youth sailing program (almost 100 kids). EJ also bought a motorcycle at the beginning of summer that he used while on the island. Katie and Evan had great times visiting both kids this summer!!
Left: Evan & Katie in the BVIs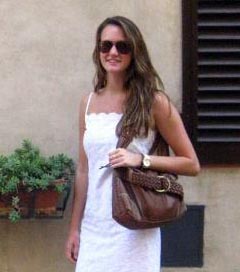 2012 brought many changes for Katie professionally. After her company was purchased by a holding company, her role in R&D changed. She experienced more responsibility and more travel professionally. But, she was able to plan some vacation time around the corporate travel.

Right: Erika in Tuscany!
Before heading to San Francisco for work, Katie was able to tag onto sister Linda's trip to Hilton Head Island to enjoy the condo her dad had left Linda. Then, a trip to the corporate headquarters in Palm Beach Florida in November was followed by a long-time wish of Katie's to charter a sailboat in the British Virgin Islands. 2013 promises to be filled with lots of changes and travel opportunity as well.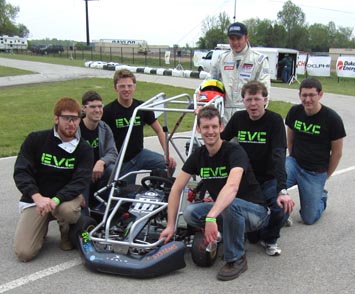 Evan's life continued on the go. Still doing the IT work at VS Engineering (8 years now), and still coaching rugby at the local high school. He also continued helping put on the After-Prom party, on the Zionsville's Pathways Committee, running the election polls, running the Launch & Recovery at Put-In-Bay youth sailing camp, and refereeing rugby games. Evan did his first Mudathon this year and helped organize the 50th anniversary of IU Rugby. He did finally resign from doing the monthly newsletter at our sailing club after 16 years.
Left: EJ with his EV Grand Prix team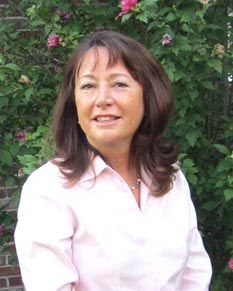 Fall of 2012 had EJ starting his sophomore year at Purdue...living off-campus in the newly built Chauncey Apartments. He was inducted into the Old Masters program as well as the PU Student Board. He bought a 2nd motorcycle and now has a goal to rebuild it into a battery-power electric bike! Fall is also the time for interviews for internships. EJ accepted a summer position at Allison Transmission...the same place where Evan retired from 12 years ago after 33 years.
Right: Katie posing!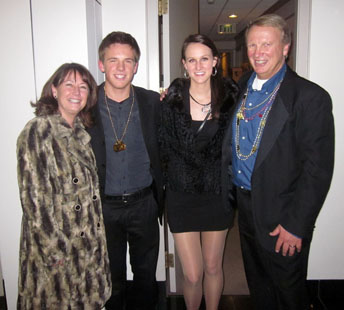 Erika's interviews this past fall landed her a full-time position at Bank of America - again in Chicago. Guess she'll be needing more permanent housing up there now. The fall will be Erika's last semester living in her sorority (Kappa Alpha Theta). She's moving into a house in Bloomington for her last semester down there.
Left: Dressed for the Super Bowl parties!!
2012 will end like last year with a trip to Detroit to see Katie's family. Then hopefully we'll all be off to Coconut Grove for a week in the sun.
We hope you and your family enjoy the Christmas season and most of all, be sure to enjoy New Year's Eve...Evan's favorite holiday!!

EJ in control in the sailing camp


EJ with some of the other coaches amd campers


Linda, Gordie, Katie, Evan, and Ginny starting the zipline at HHI


Linda & Katie on one of the platforms


Erika & Katie touring Chicago


Katie tailgating at an IU football game


Katie on her birthday with Christina, Denni, Katherine, and Karen


Evan & Katie with the PIB Launch & Recovery Team


Denni, Evan, and Katie at Eagle Creek Reservoir


Katie & Denni with Jim hanging around


Evan on the mic at the Rugby Old Boys game


Evan after his first Mudathon


EJ standing on his functional Segway


EJ's motorcycle hauling it home when we first bought it


Katie at the Bean


Katie & Evan in the BVI's


Evan & Katie in the BVI's


Evan & Katie at Foxy's at Jost Van Dyke


Erika & Katie in Frat Field at IU


Erika & Evan at Nick's at IU


Katie & Erika at Kappa Alpha Theta


Katie, Evan, and Erika at the EOTW Old Boys Rugby Game


Joe, Disco, and Evan at the EOTW Rugby Game


Evan, Erika, and Katie in Frat Field at IU


Katie with relatives in Hilton Head


Katie & Evan in Hilton Head


Party on our driveway with furniture from EJ's Purdue dorm room


Another view of EJ and the EV Grand Prix team


EJ & Erika at the Super Bowl display


Our cell phone wallpaper


All the Old Boys at the End-Of-The-World Rugby Weekend


One of the bays in the British Virgin Islands


The Thanksgiving spread....


That's All Folks...............