This is the first full year having kids spread across the country. However, we still managed to get together four times this year: 1) In Chicago for Father's Day, 2) In Santa Fe for Robin's wedding, 3) In Zionsville for Thanksgiving, and 4) In Indy/Detroit for Christmas.
Left: Evan & Katie in the Keys
Shortly after catching Chrissy & Zach's wedding on January 2nd, Katie & I flew to Miami and drove a Mustang convertible to Key West for a few days of R&R.
Later in January, we flew to Portland for a rugby gathering visiting the Doyles and Dickie.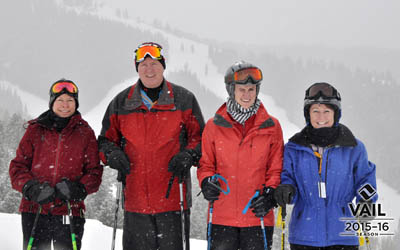 We returned in time to host yet another Super Bowl party. Shortly after that, Katie & Erika jetted to Vail to hit the slopes with Wayne & Madonna.
Right: Madonna, Wayne, Erika, & Katie skiing in Vail
Spring Break was once again spent at our normal timeshare at Marriott's Royal Palms in Orlando but this year with Tracy & Beth (along with Mona & sisters as usual).
At the end of March, Katie & I headed to Phoenix along with sister Linda to visit their other sister Eileen (and Roger) in their new home. We also got in a visit there with long-time friend Paco and his girlfriend.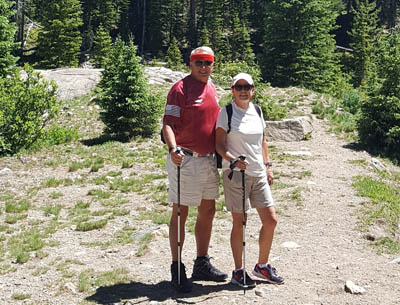 For July 4th, we checked out Vail in Colorado visiting other long-time friends Wayne & Madonna in their condo. We had so much fun that we're returning there again for New Year's Eve.
Left: Evan & Katie hiking in Vail
It was then that our travels slowed down when Katie went for a routine physical and a small lump was found in her breast. A lumpectomy and radiation treatments later, and we were back at it with a visit to Orlando for the grand opening of the Dine's Dead Lizard Brewery.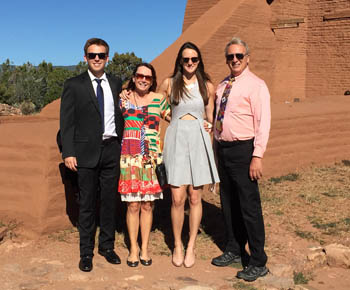 In the fall, we flew to New Mexico for niece Robin's wedding and stayed for a few days checking out the state (along with a visit to old work buddy, Rick). We celebrated at five weddings in 2016.
Right: EJ, Katie, Erika, & Evan in Santa Fe
Evan is now in his 13th year as IT Manager at VS Engineering. He is still involved with Zionsville's pathways committee and ZCHS After-Prom Committee. He loves cruising on either of his two scooters during the summer…and managed to hit six microbrewery festivals.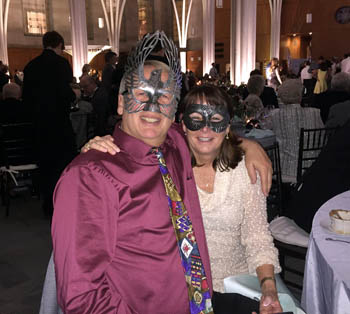 Katie is still substitute teaching at her pleasure in the Zionsville system as well as taking fun trips like skiing with Erika in Colorado and cruising Orlando with Mona. Sometimes it seems her full time job is just doing all the logistics planning for our travels\life right now.
Left: Evan & Katie at Chrissy & Zach's wedding
Erika finished her 3rd year out of IU and is in her 3rd apartment in Chicago as an urban dweller. She's currently managing funds for Avant Credit, living on Oak Street near the Viagra Triangle, and still quite active in the Columbia Yacht Club. She brought a dozen friends down for the Indy 500…many first timers.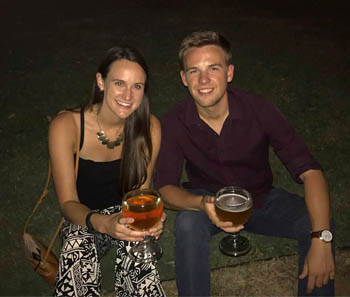 EJ is still in Dallas getting closer to production on his hoverboard program. He just moved into his 2nd apartment still with old friend Landon and now Bobby.
Rachel is set to join them after graduation this December... after landing a nursing job at the University of Texas Medical Center. Also, EJ experienced a life milestone…bought his first car on his own!
Right: Erika on her first visit to EJ in Dallas
Below is a pictorial of many of the events throughout this last year.
We hope you and your family enjoy the Christmas season and most of all, be sure to enjoy New Year's Eve...Evan's favorite holiday!!

Jordan, James, Evan, Eric, & Brett at Microbrewers Fest


Evan, Katie, Jane, Jackie, & Nick at Jimmy Buffett,


Katie & Evan at Coors Brewery


Katie & Evan at Bean Blossom


EJ & his gang at the Coke Lot for the Indy 500


Erika & her gang relaxing after the Indy 500


IU Rugby tailgating at Soldier Field


IU Rugby at the CRC's in Philly


Katie & Evan in Key West


Evan & Dell at the Grand Opening of the
Dead Lizard Brewery


Beth, Katie, Carolyn, Berna, Mona, & Janet at Royal Palms in Orlando


Katie in New Mexico


Evan at Royal Palms in Orlando


Eileen, Roger, Linda, Katie, & Evan in Phoenix


Donna, Dell, Evan, & Mona on Eagle Creek


EJ & Rachel in Zilker Park in Austin


Landon, Rachel, & EJ during Mardi Gras in Texas


Evan & Katie on a bike tour in Taos


Katie sampling the fruit from a cactus in Taos


Katie, Evan, & Erika on a hike near Vail


Erika, Katie, Madonna, & Evan before a bike ride in Vail


Mike, Evan, & Rachel at Deviate Brewing


Erika testing the hoverboard EJ is building


EJ on a Laser in Austin


Katie skippering our Catalina on Eagle Creek


Katie at the wheel of a big boat in Key West


Katie hanging with her best bud in Key West


EJ & Landon (shown with Katie & Rachel) getting ready to haul the Laser & trailer to Dallas
with EJ's first car - Honda Pilot


EJ grabbing a Pokemon Magikarp


Evan & Katie at the Coors Brewery


Erika & Katie checking out the Denver area


Erika & pals at the Columbia Yacht Club in Chicago


Our IU Football tailgating crew


Evan at the Vegas Olympic Rugby 7's Fest


Erika on a hike near Vail


Wayne, Madonna, & Katie on a hike near Vail


Anthony, Chelsea, Obie, Evan, Kru, Allison, & Kevin watching the Eagles in Chicago


Nipples, Coop, Evan, Ralphie, Hickey, Leo, Dickie, & Eric the Red at Connor's Pub before the Dweezil Zappa Concert at the Vogue


Josh, Torrey, and EJ at one of four weddings
EJ attended this year


EJ, Rachel, Erika, & Jason on the guns at the
IU Stadium for the IU-Purdue football game


Evan & Katie in Taos


Evan & Katie at Zoobilation


EJ & Erika at Landon's workplace deck in Dallas


Evan with his new hat in Vail


Erika, Katie, Madonna, & Wayne in Vail


Da kids at da Coke Lot for the Indy 500


Donna, Mona, Katie, Maggie, & Debbie at Matt the Miller's for Donna's birthday


Evan in Vail


Katie on a chairlift in Vail


EJ's office when in Zionsville


Our 2nd year crop of hops


EJ at the Mav's building


Katie & Madonna hiking in Vail


Wayne, Madonna, Erika, Katie, & Evan hiking in Vail


Bob, Katie, & Jenipher at our sailing club


Evan, Katie, Dot, and Claire at Justin's 4 Miler


Katie & Evan at Sam's wedding
with Brad in the background


Evan & Katie in Key West


Jordan & Katie working the NUVO table at the Microbrewer's Fest


Evan winning this year's annual Christmas family
Coo Coo game


EJ & Rachel in the Penske Suite at the Indy 500


EJ showing Erika around Dallas


Super Bowl Party at our house


Da family in Detroit for Tess's 90th birthday gathering


Da family in Santa Fe for Robin's wedding