Author: Mostly Evan
2015 - Thanks for the memories !!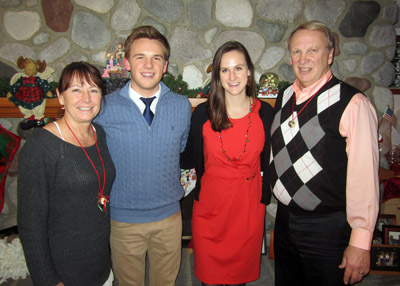 Seasons Greetings to All! We hope this Christmas letter finds you and your families well. It has been a good year for us, with many new adventures. May we share some of them with you…

Right: Katie, EJ, Erika, & Evan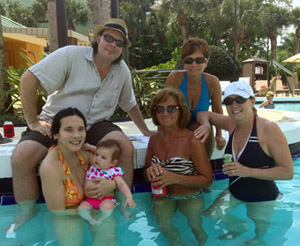 Spring Break was once again spent at our normal timeshares in Orlando with sister Linda, Mona (and some friends), and some Dines. .
Left: Stormy, Rich, Arizona, Mona, Janet, and Katie in Orlando
EJ once again used our other week for his last spring break in Ft. Lauderdale....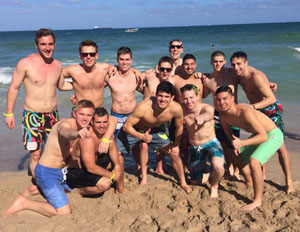 Right: The Beach Bums!
Spring brought EJ's graduation from Purdue in Electrical Engineering. He did one final EV Grand Prix and had the honor speaking at graduation (to listen/watch, click Here). Two days later, he took off for an extended tour of Europe with two of his best buds seeing 10 countries there.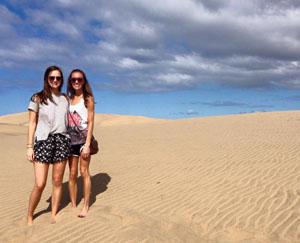 Meanwhile, Erika took off to the Canary Islands with two of her best buds. She's still in Chicago living downtown in Harbor Point condos - now working at Avant Credit; one of Wall Street Journal's top billion-dollar startups (might be a keeper). Erika continues to spend time at the Columbia Yacht Club.
Left: Erika & Lauren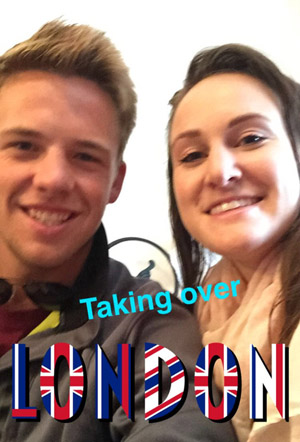 Katie's continuing to substitute teach in the Zionsville system. She hightails it up to Chicago for time with Erika whenever possible!
Right: EJ & Erika in London visiting Kate
In late summer, Evan couldn't talk anyone into going with him, so he went to Cuba for a couple weeks on his own. Just ask, he'd love showing the pics. This year, Evan notched his 11th year as the IT Guy at VS Engineering. He finally gave up helping coach Zionsville's high school rugby team, but still referee'd and announced other rugby games.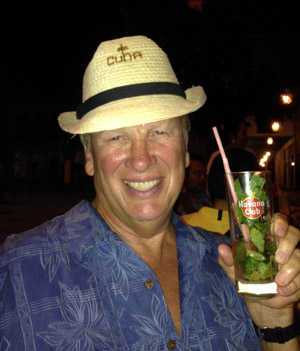 Left: Evan with a mojito in Cuba
Also in late summer, EJ started his first professional job after college down in Dallas designing/ producing hoverboard scooters for Mark Cuban Companies. We did the U-Haul trip moving all his possessions down there in early November. Long time family buddy Landon quit his Indy job and moved to Dallas with EJ. Interestingly, of the first four weeks in his new job, EJ spent two of them in China.
Meanwhile now, as official empty nesters, Evan decided on a goal of visiting every microbrewery in the Indy area...our current score is 44 with 2 yet to go! We're all looking forward to the grand opening in January-ish of the Dead Lizard Brewery being started in Orlando by long time friends Dell & Donna Dine and their family.
Below is a pictorial of many of the events throughout this last year.
We hope you and your family enjoy the Christmas season and most of all, be sure to enjoy New Year's Eve...Evan's favorite holiday!!
Evan, Katie, Erika, and EJ Williams
---
More Pictures

EJ & Rachel jet skiing


EJ & Rachel sailing


Erika in Utah visiting cousin Nick


Erika in the Canary Islands


Evan, Katie, & Erika at an IU Old Boys Rugby game


Evan & Katie at the Badgers


U-Haul loaded for Dallas


Evan & Katie in Deep Elum in Dallas


EJ & Erika for Halloween in Chicago


EJ at the Louvre


Katie & Erika in Chicago


EJ blowing snow in Zionsville


EJ & Erika at the Columbia Yacht Club in Chicago


EJ skydiving


EJ getting some award at Purdue


EJ, Mark, Erika, & Landon at IU Old Boys


EJ in his Lab


EJ testing a hoverboard like he's building


Erika & friend Kate in the Canaries


Erika in Indy for March Madness


Evan showing his conflictions (IU vs Purdue)


Katie & Evan - Prom King & Queen! Ha!


Katie with her Brown Bag (new wineskin)


Katie in the big chair at the KnawBrew


EJ speaking at Commencement


Katie, EJ, Erika, & Evan at Graduation


Mona & Katie mending the boat


Katie sailing


EJ & Evan at Purdue's Old Boys


Old Boys Rugby game at Purdue


Evan & Katie at the Warrior Dash


EJ & Rachel at the Warrior Dash


EJ & Rachel at the Warrior Dash


Evan, Nancy, Katie, & Mark at Bloomington's BrewFest


Erika & EJ in London


EJ & Rachel at Put In Bay


Erika & EJ in London


EJ at the Coliseum


Mona & Katie at Breakfast Club


Abby, EJ, & Rachel dressed for Breakfast Club


Mona, EJ, & Katie at the Boilermaker Ball


Evan & Katie at Zoobilation


EJ & Rachel at Put In Bay


Erika in the Canaries


Katie & Erika kayaking the Chicago River


EJ on the Great Wall of China


EJ's adorned Homecoming poster


Purdue's Homecoming parade with Joey, EJ, & Meg


EJ with EV kart heading to the IMS


EJ, Rachel, Katie, & Evan doing Go Ape


Tess's 90th Birthday Party


Jay & Rachel's wedding with rugby guys


Erika & Katie


Katie relaxing at the Kowals





Alumni Rugby Game at IU


Alumni Rugby Game at Purdue


Katie & Mona at the Ladies' Sailing Regatta at the Eagle Creek Sailing Club
---