2008 was good for us !!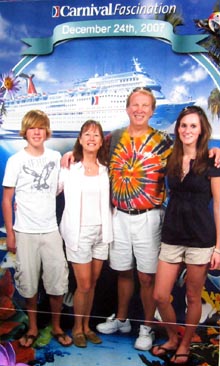 The year started out with a 4-day cruise from Miami to Key West & Cozumel. Having already seen Key West, instead of heading down US Highway 1 back to the Conch Nation, we spent a day on South Beach instead...then home for New Year's. In Cozumel, we did the snorkeling thing...in Key West, got to see town on the Conch Train.
Right: On the Cruise Ship!
In early 2008 for the second semester of the school season, we had Erika continuing as a Junior and EJ following as a freshman. EJ kept going with rugby, helping with the reemergence of the high school rugby team...but, only when he had time free while he was doing crew for Royalaires and whatever play happened to be in production at school.
Left: Snorkeling in Cozumel
Spring Break 2008 was our first family split ever for that week...Erika took off for Siesta Key with Molly's family (and half of Zionsville) while Katie & I went to our normal Marriott timeshare in Orlando with EJ and Kyle. Interestingly, EJ had just returned from a trip with his Royalaires to Orlando the week before Spring Break!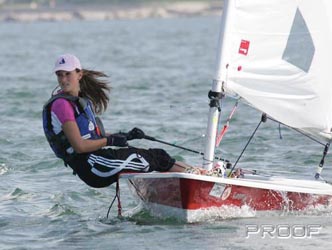 School ended up with Erika doing her high-jump for the track team again this year and EJ filling in for the injured scrumhalf in the season-end tournament. EJ also started getting more & more gigs with his EJ the DJ thing...first getting experience doing Sailing Club events, then branching out with school events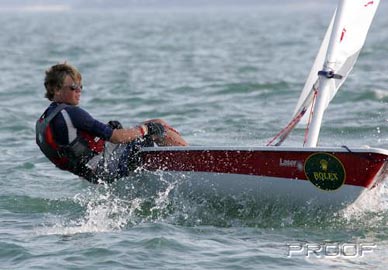 Right: Erika at Bay Week!
Left: EJ at Bay Week

Summer Break activities started immediately...both EJ and Erika were instructors at our Eagle Creek Sailing Club for the 3-week summer youth sailing camp. During and after that, just like last summer, every weekend "we" were off to some youth sailing regatta...usually in the Lake Erie area. But, since Erika now had her driver's license, Katie & I weren't always "invited."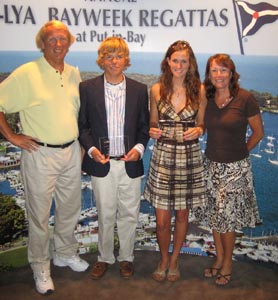 Mid-summer was the highlight of the summer sailing: the week-long youth regatta at Put-In-Bay. The kids stayed in a motel amongst the other 200 youth sailors while we stayed in an old hotel on Main Street. They raced every day while Katie and I spectated. Actually, Evan was drafted to run the "Launch & Recovery" boat operation ...handling the in & out of about 90 boats sometimes twice a day.
Right: The kids with their trophies
Erika finished the week (15 races) 3rd out of 14 racers. EJ finished 2nd out of the 8 racers in his division.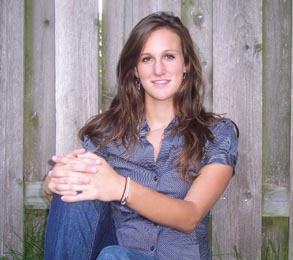 We got back home just in time for EJ to start his 2-week Royalaires Summer Camp while Erika flew to San Antonio for a week to see Charlotte.
It was a go-go-go whirlwind Summer!!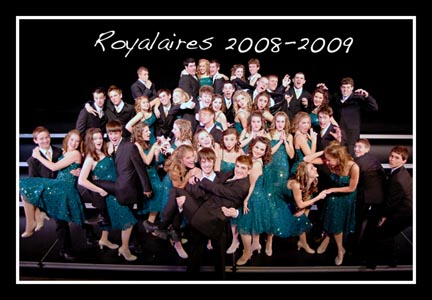 Fall, of course, started with school once again. This time, Erika (Left) is the big SENIOR with EJ the lowly Sophomore. Erika had the opportunity to choose her college - with her first target being Purdue. She really liked the Bio-Engineering school...especially when she heard many of such companies were in California.
Right: EJ's Royalaires Troupe
But, after not especially liking her Advanced Physics course in high school and equating physics to engineering, she started looking elsewhere. Her target now is the Kelley School of Business at IU. Looks like she'll be heading to a dorm in Bloomington next fall studying business (or boys).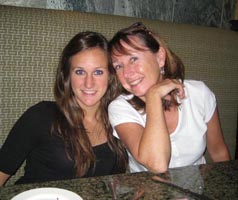 For extra cash, Erika's been helping out at "To The Last Drop" - a Zionsville catering business. She handles both the in-store sales and special-event catering.
Left: Erika & Katie
Meanwhile, EJ graduated from behind-the-scenes work to on-the-stage singing and dancing. He joined the Royalaires...a show-choir group. He also played a part in the play Grease. His DJ business went big time...playing the music for after-game dances at the school and at the Boys/Girls Club.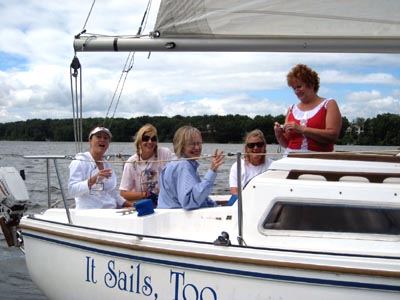 In mid-semester, Katie & I hosted a going-away party for EJ...he got his driver's license. We haven't seen much of him since!
Left: Katie on a social sail with our sailboat, "It Sails, Too"
As usual, most changes in our lives have been regarding the kids. For Katie and me, it's just the normal Ho-Hum. Katie's still at National Dentex...30 years now. However, it's still fun yet demanding. Being the R&D Department for a 40+ Dental Laboratory business, her work is quite consequential...with the occasional travel. She's not fun to be around when her quarterly newsletter is due!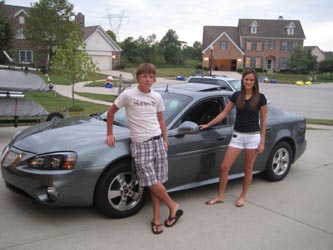 It's been 9 years ago now that Evan retired from GM. But, he's now been with VS Engineering for 4.5 years doing all the computer-associated work. This year has been especially fun with an expansion into a new addition...Evan handling all the data, telephone, and security systems.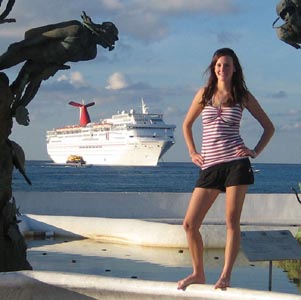 Left: EJ with his new car (and his sister)
Katie helped organize the youth sailors for the summer regattas. Evan has continued doing the monthly newsletter for the Sailing Club, still on the Zionsville Pathways Committee, Precinct Vice Committeeman, keeping the IU Rugby Alumni organized by running the worldwide Listserv, and helping coach the Zionsville High School Rugby Team.
Right: Erika posing with our Cruise Ship in the background
For exercise, Katie does long walks a few times each week with Debi. Evan still plays basketball a couple times a week and does the occasional rugby practices with the high school kids.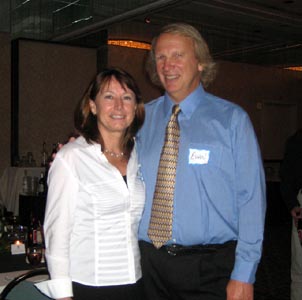 All in all, we've been in Zionsville now for 9 years living on a cul-de-sac in Spring Knoll subdivision. We're also now a 4-car family living in a house with a 3-car garage.
Evan's father lives in Cincinnati with two of his older brothers living in the Chicago area and the third in Minneapolis. Katie's parents are still in the Detroit area along with her brother while her two sisters are in Houston and the Raleigh area.
We hope you and your family enjoy the Christmas season and most of all, be sure to enjoy New Year's Eve...Evan's favorite holiday!!
Evan, Katie, Erika, and EJ Williams
---
More Pictures
Erika with Tim at the Prom

EJ & Evan with the Rugby Team

EJ & Kelsi

Us on the Ferry to Put-In-Bay

Erika

EJ

EJ & John

EJ with his Royalaires in Orlando

Us on the Cruise Ship

EJ with his Spirit Look

The Big E

EJ in Orlando

Erika

Erika crewing on a J24

Erika and crew

Erika trying out the new sailboard