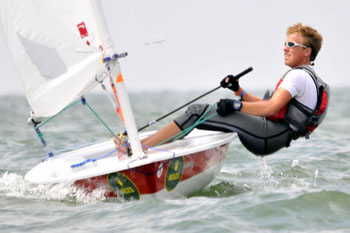 The beginning of 2010 had EJ finishing up his junior year at Zionsville High School with Erika down in Bloomington at IU living in McNutt Quad. EJ was into his 2nd year of show choir (Royalaires) transitioning into rugby as the weather broke. Spring Break wasn't quite the same as past years since the kids' breaks were different weeks. For the first time in 18 years, we didn't go anywhere together. Erika & Katie did a few days shopping in Chicago while Evan flew to Portland for a few days with old time ruggers. EJ wanted to stay home and hang with friends.
Right: EJ on his Laser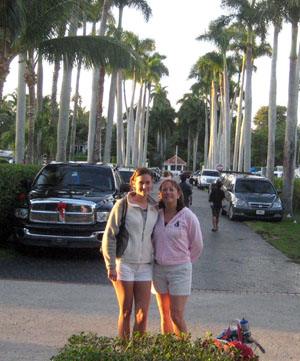 Spring high school rugby was awesome!! The Zionsville team Evan coached on which EJ played went undefeated for the season culminating in a State Championship.
Left: Erika & Katie in Coconut Grove
Moving into the summer, both EJ and Erika were instructors at our sailing club's 2-week youth camp. In EJ's last year of youth eligibility, he finished well enough at the 25-boat quarter-finals at Put-In-Bay to qualify for the 2-day Semi's in Detroit. With 22 boats vying for the top two spots to proceed to the Nationals in San Diego, EJ was in 1st place after the first day. Unfortunately, the wind died on the second day and two light-weight sailors passed him...he finished 3rd!
What a way to finish his youth sailing career!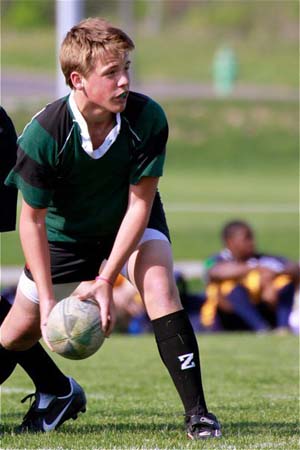 Great news for Katie, after two decades in the dental laboratory business, Katie worked her way into a great R&D job. Bad News, she's now full time!! Katie gets to travel almost every week now...mostly to Boston, St. Louis, Phoenix, or Minneapolis but also Europe this spring hoping to see her niece Robin in Spain while there. Katie and Mona took a trip to Lakeland this summer for Rich Dine's wedding. While in Boston, Katie also scoped out a campus visit for EJ to MIT that we just made in early December. While EJ has been accepted at Rose and Purdue, he now is pursuing MIT in Boston. The sailing team there is quite cool.
Right: EJ showing his rugby prowess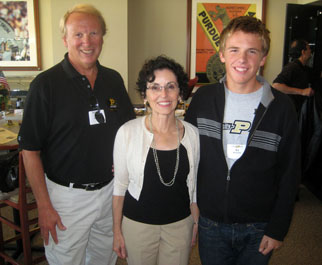 One of EJ's campus visits to Purdue was undeniably huge...mostly orchestrated by long-time friend and Purdue EE grad Wayne Saxton. After starting out the homecoming visit at Wayne's alumni-athlete tent (and a picture with the Purdue cheerleaders), we headed out to the football stadium and walked onto the field with all the alumni jocks (Wayne was a baseball pitcher back in the day). We then took the elevators up to the President's Suite and watched the game from there. Afterwards, we had dinner with the Dean of Engineering followed by two separate parties that night for which EJ was invited! Until we dragged his butt to MIT, he had no intention of looking at another school.
Above: Evan & EJ with Purdue Prez Cordova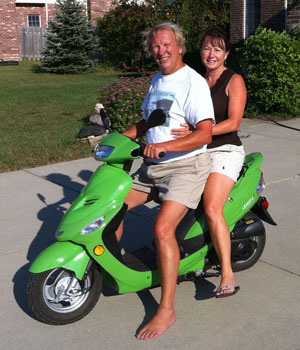 Evan is almost up to full time at VS Engineering now...handling anything computer related. VSE was taken over by the owner's son (a Purdue engineering grad) about the same time Evan joined VSE. Sanjay has been aggressively building the business and it's now about 3 times larger than when Evan started six years ago. Evan just moved all VSE E-Mail & calendaring to Google Apps. Anyone want tips on this?? Unfortunately, with more time spent at VSE, there's much less time for other clients. Oh well....
Right: Evan & Katie on the scooter
Evan also can be seen tooling around Zionsville on his little 50cc green scooter. Along with coaching the high school rugby team, Evan is also getting more & more into reffing rugby. He still does our sailing club's monthly newsletter. Unfortunately, we didn't spend as much time on our sailboat since we were traveling many weekends with EJ on his regatta circuit. Evan tries to stay in shape still with his weekly basketball and jogging on the Rail Trail behind our house. He also helped organize two IU rugby Old Boys games this year...one at Purdue for their 40th anniversary.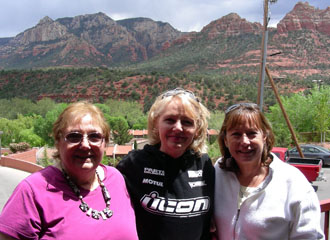 Seems we're jet-setting around to see friends now. Katie met her sisters this summer in Phoenix while Evan did that Portland trip followed by another Old Boy rugger trip to Chicago to catch a Dweezil Zappa concert.
Left: Katie with her sisters in Phoenix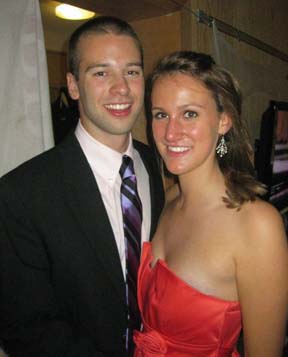 This fall, Erika went back to Bloomington for her sophomore year at IU...this time staying in her sorority, Kappa Alpha Theta. Some good Zionsville friends ended up renting a house right behind Erika's sorority and she now has a great place to crash and kickback. Coincidentally, she met a frat boy from Sigma Chi (also close by to Kappa Alpha Theta) and is now officially dating him...according to FaceBook, anyway. She brought Stephen to Zionsville twice now...not to necessarily meet Katie & me, but more for a layover for his flight home to Virginia the next day.
Right: Stephen & Erika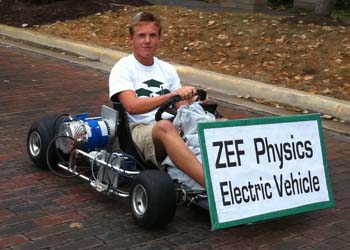 EJ started his senior year at Zionsville keeping quite busy with his 3rd year of show choir (Royalaires), fall rugby, stage crew (lighting & sound), and robotics. His robotics team won a 55-team competition in November which qualified them for the VEX Robotics World Championships in April at Disney World's ESPN Wide World of Sports Complex in Orlando. Unfortunately, it's the same weekend as his Senior Prom. Should be interesting to see which he chooses!
Left: EJ on "his" electric Go Cart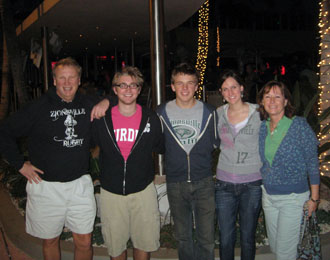 EJ also joined our local LA Fitness center. He claims to be going there to rehab his broken arm (from fall rugby), but we suspect it's more a social thing. He's also not sailing in this year's Orange Bowl in Coconut Grove over Christmas break (his arm's not quite to full strength yet), but we're still going anyway...taking EJ's friend Josh with us while Erika heads to Stephen's home in Virginia for break.
Katie also joined that LA Fitness and is spending time working on her toning!
Right: The four of us with Josh for New Year's at South Beach
We hope you and your family enjoy the Christmas season and most of all, be sure to enjoy New Year's Eve...Evan's favorite holiday!!

Ashleigh & EJ for the Prom


Erika in her McNutt dorm room


Katie & Evan at Eagle Creek


Evan on his "old" electric scooter


EJ with the Purdue Cheerleaders


EJ and his buds camping at the Dunes


IU Dad's Weekend doing KAT kite thing


Erika doing yet another Kappa Alpha Theta kite thingie


Road Trip!! To some sailing regatta somewhere


Evan, Erika, EJ, and Katie at Put-In-Bay


EJ with the State Championship trophy


Evan reffing a rugby game


EJ & Erika at Easter doing cornhole


EJ winning the annual Barbone family CucKoo game


Evan & rugby buddies in Portland


Evan & rugby buddies in Chicago


Erika with all her "stuff" she's taking to IU


EJ with his Royalaires


Erika & EJ with their summer sailing camp kids


EJ with his sailing team at Put-In-Bay


EJ's robotic team that qualified for World Competitions in Orlando


Erika in her room at Kappa Alpha Theta


Awards for QuarterFinals at Put-In-Bay


EJ receiving his sailing award


Katie's summer project - our front garden


EJ solving Ashleigh's Halloween puzzle to win the prize


Evan & his Monroe camping buddies


On the ferry to Put-In-Bay


The plate & pins in EJ's left arm from a rugby injury


EJ in the Royalaire show he choreographed


Evan at his IU Old Boys Rugby game at Purdue (front row, 2nd from right)


Evan with the 2010 State Champion Zionsville High School Rugby Team (left on the 2nd row)