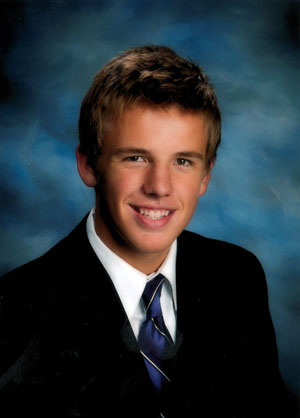 2011 started off for Evan, EJ, and friend Josh in South Beach enjoying the revelry on Ocean Boulevard. Erika was visiting her friend Stephen in the DC area. Katie stayed home with good friend Mona.
Right: EJ's Senior Pic
On return, EJ headed into his last semester as a senior at Zionsville High School. He was selected as Dance Captain in his showchoir group, The Royalaires. He also was starting scrumhalf on the rugby team. In his spare time, he took on building a segway for his senior science project and with 3 other friends, built a robot to compete in numerous competitions.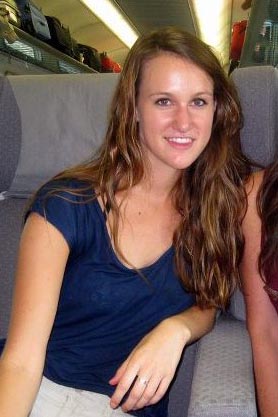 Erika took off to Bloomington to finish her sophomore year at Indiana University...living in her sorority, Kappa Alpha Theta. She's pursuing finance & accounting in the Kelley School of Business.
Left: Erika - our jetsetter!
In the spring, Evan continued coaching the Zionsville high school rugby team...taking them to the State tournament. He also MC'd some of the robotics tournaments EJ was taking part in. Evan ran a polling precinct in the Zionsville area and organized & played in an IU Old Boy's rugby game at Purdue.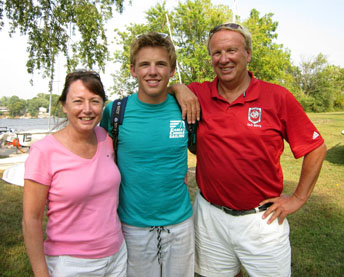 Katie went a week early for a business trip to Germany... meeting her sister Linda in Amsterdam visiting our friends Peter & Margaret for a few days. Katie flew back to the States directly to Orlando where she spent Spring Break with Evan, EJ, and friend Will at Royal Palms. Erika spent her Spring Break in Ft. Myers with her sorority sisters.

Right: Katie, EJ, and Evan
Finishing out the spring, EJ graduated #4 in his class with a State Scholarship to Purdue. He had fun at the Top 20 Breakfast...and had his Graduation Party with long time friend Torrey. Evan once again helped organize the After-Prom Party...putting about 1,000 pictures of kids on FaceBook for their continued perusal.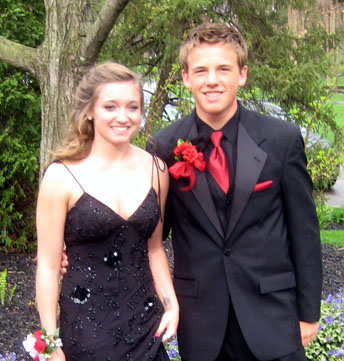 Heading into summer, we moved Erika into a near-campus apartment in Bloomington for summer school. She took on the toughest Business School program (i-Core) and aced it! She also organized another trip into Salamander Cave for her summer friends that EJ lead.
Left: EJ with Prom date Ashleigh
EJ also lead a two-week summer youth sailing camp at our Eagle Creek Sailing Club...after completing a Sailing Certification Course with friend John at Lake Lemon. Interestingly, both EJ and John stayed with Erika in Bloomington!! EJ came back and helped work the Miss Indiana Pageant culminating in driving one of the contestants in our convertible in a local parade!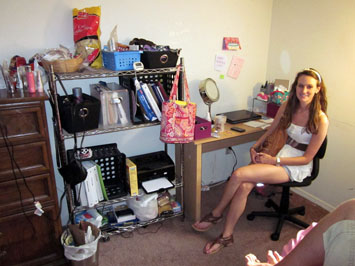 Katie lost her father, Lou, this year. Although "alone," her mother Tess is quite content in her assisted living community in Novi, Michigan. I tell ya, that's one party place I would hope to live in someday!! Evan's family put his father, Henry, into a nursing home this year. At 94, he's not as spry as he used to be.
Right: Erika in her Bloomington summer apartment
In late summer, Evan, EJ, and friend Joey went to Put-In-Bay once again for a week-long youth sailing regatta. EJ coached our Eagle Creek Sailing Team, while Evan once again handled the Launch and Recovery. If you wanna see a short video of the team launching 90 boats at the Put-In-Bay Yacht Club, click Here. As a bonus, Evan brought his little green Scooter to tool around the island all week.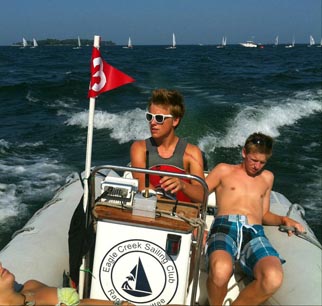 Late summer also saw Katie & Evan attending Billy's polo matches at the Hickory Hall Polo Grounds (basically, Donna & Greg's huge front yard). Evan even had the opportunity to handle the announcing of the matches! Evan also played in a Didgeridoo Band at Joanne's work, the Miller Brooks Company.
Left: EJ and Joey in the coach boat at Put-In-Bay
Katie started traveling for her job in R&D at National Dentex Corporation. She's been in the dental lab industry for 37 years now. One of her tasks is to publish a "What's New in the Dental Lab Industry" newsletter every two months. Evan still does the monthly newsletter for our Sailing Club...for about 15 years now. Evan also is still at VS Engineering handling all IT work...for going on 8 years now.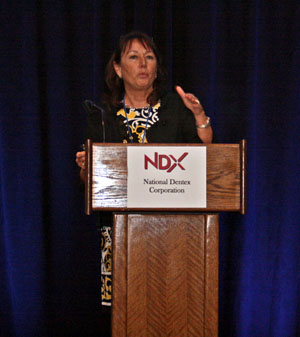 The fall saw Katie & Evan become empty nesters. EJ was first to go heading to Earhart Hall at Purdue on the Honors Engineering floor. He plans to double major in Mechanical AND Electrical Engineering. He decided to go the frat route and just became a member of Delta Chi Fraternity. He's also a member of the Purdue Sailing Team.

Right: Katie presenting at a Dental Lab Seminar
Erika was next to go...heading on an exchange program for the fall semester at Bocconi University in Milan, Italy. Katie and friend Debi went with her flying into Rome with a stop off in Florence on the way to Milan. With classes only on Tuesday to Thursday, Erika spent many a long weekend traveling about Europe (Barcelona, Budapest, Amsterdam, Vienna, Munich, Naples, and Cinque Terre). She was lamenting the lack of snow thwarting a ski trip to the Alps. Poor kid!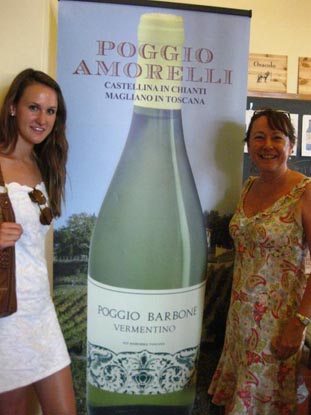 Fall for Evan continued with yet another Old Boys game...this one down at IU against the current team (Old Boys won, again. Yaaah!).
Left: Erika and Katie at the Poggio Barbone Winery in Italy
That's about it for 2011...except of course, both EJ and Erika coming back for Christmas. We'll be heading up to Detroit to see Katie's relatives, then EJ and I will start the trek on Christmas Day to South Beach once again...picking up Josh on the way in Indy. Erika and Katie hope to get some time on the ski slopes in Michigan before they come back.
We hope you and your family enjoy the Christmas season and most of all, be sure to enjoy New Year's Eve...Evan's favorite holiday!!

EJ doing his Laser sailing thing


EJ and Joey on our Catalina 25 at Eagle Creek


The crew at the Salamander Cave entrance


The crew inside Salamander Cave


EJ with Ashleigh on the Scooter


EJ in his graduation gown


EJ with his Robotics Team


EJ with his Segway


Erika in Milan


Erika doing her Kappa Alpha Theta kite thing


EJ with a Miss Indiana Contestant


EJ With the IU Contestant


Erika with her friends in Barcelona


Erika in Cinque Terre


EJ with the Royalaires


EJ with Ashleigh and Joey at After Prom


Erika & Katie in Rome


Erika at Cinque Terre


Katie in Germany on her business trip


Evan & Katie with the Smith's at Lake Shafer


Evan with his Didgeridoo Band


Andrea, Rob, and Evan visiting Henry at his nursing home.


EJ in "his" electric Go Cart in the Fall Festival parade


EJ's Earhart dorm room


Erika in EJ's dorm room


Erika in her Theta room


EJ making a move on the rugby pitch


EJ & Torrey heading for the last Harry Potter movie


Erika at Amalfi


Erika in Venice


Erika at The Duomo


Katie going shoe shopping in Holland


Erika with her friends in Zionsville (July 4th)