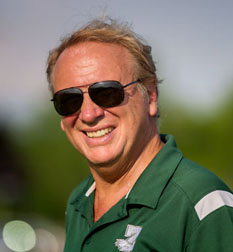 2013 started off like the past few years…with a bang on Ocean Boulevard in South Beach. This time, although it was just our family traveling, it didn't take long for the kids to leave Katie & me behind and frolic with friends they found down there.
Right: Evan coaching rugby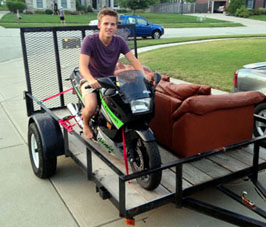 Erika flew back early (leaving us to drive) to move into an off-campus house she rented (appropriately named: The Tilt) with 4 other sorority sisters for her last semester senior year at IU.
Left: EJ packing his "necessities" for Purdue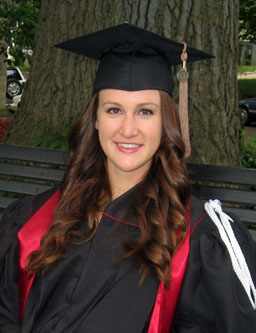 Once back, Evan began his 11th year coaching the Zionsville High School Rugby Team while Katie got back in time to take off for a work trip to Las Vegas! EJ headed back to Purdue to finish his sophomore year majoring in Electrical Engineering. He managed to live in one of the more swank apartments - the newly built Chauncey Square.

Right: Erika's Graduation Pic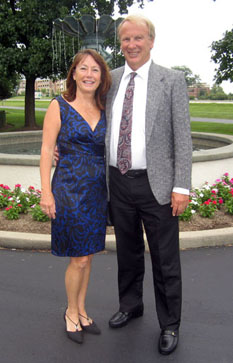 Katie's traveling picked up a bit this year, heading to Chicago in February, Germany & Paris in March, Dallas & St. Louis in April, then 3 more times to St. Louis in May & June. Evan helped on the After-Prom Committee for the 4th year and once again announced a robotics competition for the high school.
Left: Evan & Katie at Courtney's wedding
Spring Break found us in 3 separate locations in Florida. EJ shacked up with 12 or more of his friends in a timeshare we had in Ft. Lauderdale. Erika ventured to condos in Miami with her sorority sisters. Katie & I went to our other timeshare condo in Orlando…along with Mona & Donna and scads of Mona's relatives.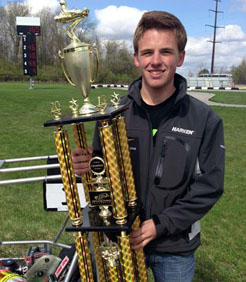 In April, EJ's go cart team once again won Purdue's Electric Vehicle Grand Prix and the follow up race at the Indianapolis Motor Speedway! With a slight twist this year, his team also built a gas-powered cart and ended up also winning the traditional Grand Prix!!

Right: EJ with the Purdue's 2013 Grand Prix trophy
May brought Erika's graduation from Indiana University's Kelley School of Business with majors in Finance and Accounting (minoring in Math). A graduation party she had at The Tilt included Randy Wittman (of 1980 IU Basketball fame)…whose daughter was one of Erika's roommates! Erika accepted a position as an Investment Banking Analyst with Bank of America in downtown Chicago starting in the fall.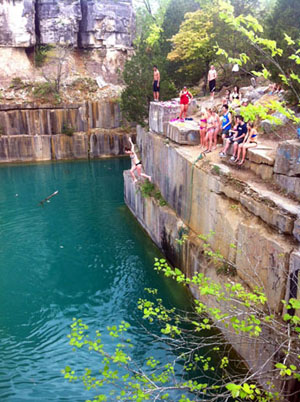 In the beginning of the summer, she studied non-stop and took the GMAT test anticipating grad school in a couple years. Erika also instructed once again for two weeks at our sailing club's summer youth sailing camp.
Left: Erika "Breaking Away" before leaving Bloomington
Also for the summer, EJ interned at Allison Transmission in their hybrid R&D area. Katie kept up her traveling - this time mostly to Chicago to help Erika find a place to live. Evan slopped around in the mud in the Mudathlon and the Warrior Dash 3 milers.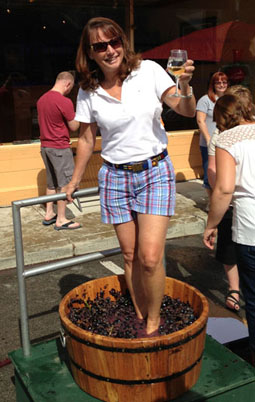 Evan stepped back after 16 years writing our sailing club's monthly newsletter and then picked up being the Executor for his Dad's estate. Late May brought a new experience for Erika & EJ…they reveled in the Coke Lot the night before the Indy 500!!
June was eventful for Katie…after we celebrated her 60th birthday hosting a rousing party, we were saddened by Katie's best friend Debi losing her battle with cancer.
Right: Katie stomping grapes at The Hopwood
Late summer started Erika into her professional career with 6 weeks of training in New York City staying in the Crowne Plaza in Times Square!! That was fine for Evan & Katie who went to visit for a week.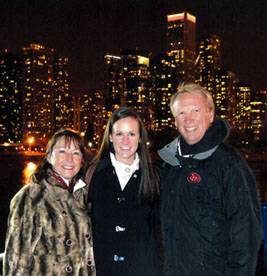 EJ took off to Purdue for his junior year, this time staying in his frat house (Delta Chi). Not long after, EJ finally turned 21 years old…he can now more fully enjoy his college experience.
Left: Evan & Katie visiting Erika in Chicago
Work wise, Evan is now in his 9th year handling IT for VS Engineering. Katie is now over 35 years in the dental industry, now in professional development for National Dentex. Interestingly, their corporate owner (Welsh Carson) is located in Palm Beach Gardens, Florida. Hence, a good number of Katie's trips are to Florida.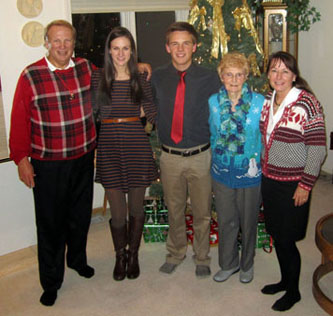 Evan & Katie took a little time off to spend with Katie's relatives in Hilton Head in late summer. In early fall after moving Erika into her apartment in Chicago, we inaugurated it over Thanksgiving with all four of us…culminating with a gathering of Evan's family at his brother Doug's house in Northbrook.
Right: Christmas with Tess at Uncle Ed's
Christmas break will be little different for us this year. Although we're making our normal trip to suburban Detroit to spend Christmas with Katie's extended family, we're skipping our usual trip to Coconut Grove and South Beach. Not sure where we're spending our New Year's this time…any ideas??
We hope you and your family enjoy the Christmas season and most of all, be sure to enjoy New Year's Eve...Evan's favorite holiday!!

Erika's sorority (Kappa Alpha Theta)


At the Arboretum


EJ with "his"electric go cart


EJ's team after winning the Grand Prix


Katie with "her" lobster at our sailing club


Katie living on the wild side


Evan with IU Rugby alumni in NYC


Evan & Dave at Zoobilation


Erika at graduation


Erika's graduation invite


EJ at Banker's Life showing Purdue's electric go cart


EJ relaxing over the summer


Katie "sailing" this summer


Katie in NYC visiting Erika


Evan at Jimmy Buffett


EJ at Jimmy Buffett


Erika & Cayla checking out the pool at their place in Chicago


Erika with her roommates at The Tilt


Katie & Karen at Polo


Kate, Erika, Katie, & Karen at Polo (with Sergio & horse)


Evan & Katie on tour in NYC


Evan & Katie at Courtney's wedding


Erika with all her Christmas presents


Kate, Erika, Katie, & Joe partying


Erika at Spring Break with her Theta sisters in Miami


Erika & EJ DayGloing in Miami over Christmas Break


EJ's still keeping up his sailing


EJ's 21st at Harry's with owner Herschel (and Landon & Joey)


Katie at Rex's trolley in Zionsville


Katie in Erika's Chicago apartment (20th floor)


Loading up the scooter for tailgating


Mona, Donna, Katie, & Evan tailgating at Purdue


Erika & EJ with their cousins


Katie's family (Linda, Eileen, Tess, & Tom)


Erika - From birthday hat to graduation hat


Spring Break with Mona and all her sisters


Seniors in Erika's sorority


EJ's team that won Purdue's 2013 Grand Prix


Evan & EJ in a before & after at the Mudathon