We finished 2016 with EJ's annual Christmas party in Zionsville then driving to Detroit to spend Christmas Eve with Katie's family. This year, EJ won the annual Barbone family Coo Coo game which sports a 30+ year trophy and plenty of intra-family fame. Rachel graduated from Purdue in December and moved to Dallas to join EJ down there as a registered nurse at the UT Southwestern Emergency Room.
Left: Beth, Katie, Madonna, & Evan in Beaver Creek
In early January, Katie & Evan went to Grand Cayman for two weeks in Disco's villa there with the Doyles, Schubachs, and Raczeks. Come March, we again took our spring break in Orlando along with Mona (and her family) and Tracy & Beth.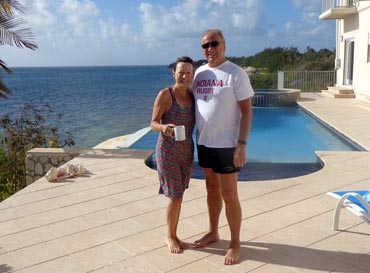 Come April, we drove to Chicago and packed up our van with almost all of Erika's belongings…then the next week, we drove to Denver and helped Erika move into an apartment. She negotiated an opportunity to work remotely to stay with Avant Credit…continuing into her 3rd year of employment there.
Right: Evan & Katie at Disco's Villa in Grand Cayman
Less than two weeks later, Erika and friend Kate took off for a two-week tour of Vietnam! Meanwhile, we decided to retire our 20 year old red Sunfire convertible and picked up a new red Camaro convertible. Yeah - perfect for summer when we don't travel quite as much. Katie also decided we needed a new look for our back patio…including now a firepit.
Katie and Evan decided to start a new sport this summer…golf! We're now looking for lessons. Erika also managed to find sailing, even in Denver, where she volunteered throughout the summer to teach adults in a social learn-to-sail league. We did also manage to use the sailboat quite a bit this summer.
Left: Erika moving to Denver.
Meanwhile, EJ finished designing the MOOV hoverboard and successfully launched it on Kickstarter in June. We got to watch EJ featured on Indy's Channel 6 News. Now that the hoverboard is complete, EJ is on to his next venture and plans to return to Indy with Rachel early next year (after Rachel completes a full year at her hospital).
Currently, EJ seems to balance between being a freelance engineer for startups, a development advisor for Purdue's evGrand Prix, and will eventually start working under Rachel's dad to learn their family business in franchising.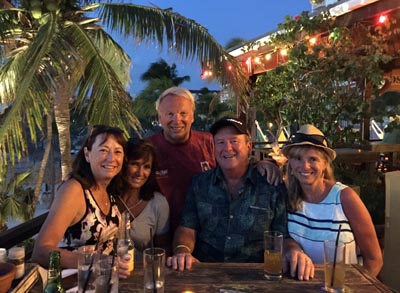 In late summer, Evan once again toured Cuba…this time in the more prosperous Varadero area. On return, Evan took off to Monroe Reservoir for the annual guy's weekend with Jack & the Daves…then right back to Bloomington for Evan's 50th high school class reunion (yes…you read that right) and then 55th IU Rugby alumni weekend. He's been a busy traveler this year.
Right: Katie, Mona, Evan, Jim, and Annette in Aruba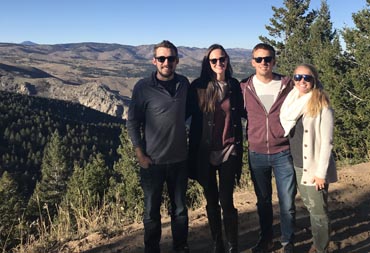 September brought Katie back to Denver…this time to help Erika get ready to move into a condo. Yes, Erika is now a homeowner! EJ, Rachel, and Landon flew to Denver in October to help Erika move in while Katie & Evan were in Aruba with Mona.
Left: Landon, EJ, & Rachel "helping" Erika move into her new condo.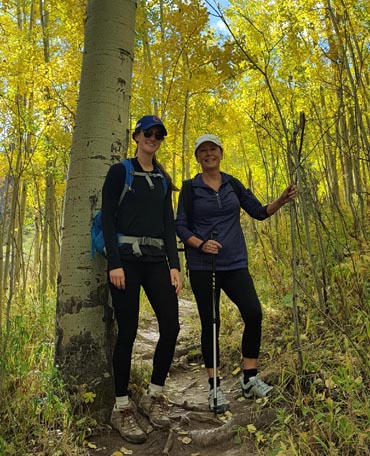 Later for Thanksgiving weekend, Evan and Katie drove to Denver to help renovate Erika's new condo. Of course, we then just had to spend a week in the Avon/Vail area hiking & skiing since we were so close (once again seeing Wayne & Madonna).
Right: Erika & Katie hiking in Colorado.
Overall in 2017, Evan is on his 14th year managing IT part time for VS Engineering. Katie started working at Vida Aventura also part time. Evan took on Prez of Zionsville's Pathways Committee again and also helped once again with the high school After-Prom Committee. Erika is moving farther away (Chicago to Denver) while EJ is moving back to Indy.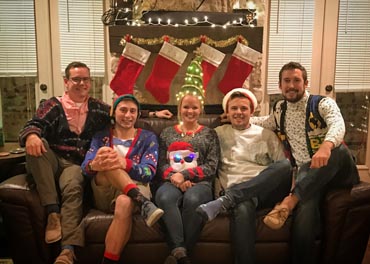 Finishing 2017 will once again bring EJ's Christmas party, then back to the Detroit area for Christmas with Katie's mom & family.
Left: Bobby, Tito, Rachel, EJ, & Landon in their Christmas card pic.
Note: To view EJ's Christmas site, Click Here

Below is a pictorial of many of the events throughout this last year.

We hope you and your family enjoy the Christmas season and most of all, be sure to enjoy New Year's Eve...Evan's favorite holiday!!
Evan, Katie, Erika, and EJ Williams
---
More Pictures

Evan snowshoeing in the Vail area


Katie snowshoeing in the Vail area


Katie, & Evan, & Beth shoeshoeing


Katie & Evan at the Arrowhead Ski Lodge


EJ & Erika skiing in Park City


Rachel, Erika, & EJ skiing in Park City


Erika at the Columbia Yacht Club


Mona & Katie on eagle Creek


Skipper Katie at the tiller


Our roof gets a new do this year


Evan splitting wood from the woods


Evan in Grand Cayman


Katie in Grand Cayman


Steve, Bonnie, Katie, & Evan in Grand Cayman


Steve & Bonnie and Katie & Evan


Katie & Evan at the Cayman Island Brewery


Katie & Evan in Grand Cayman


Orlando with Carolyn, Janet, Mona, Donna, ??, Beth, Katie, & Dani


Katie & Beth in Orlando


Evan & Katie at the Lebanon Brewfest


Our backyard garden of hops (3rd year)


Drew, Megan, Katie, & Evan at the Plainfield Brewfest


Drew, Megan, & Evan at the Gnawbrew Beerfest


Evan drove straight to Deviate from the dealership


In the Miss Indiana parade


Erika & Katie going for a cruise


The Sunfire being moved to its new home in Ohio


EJ, Rachel, & ?? on a promo shoot


EJ on a promo shoot for the MOOV


Erika just bought her new condo in Denver


Erika with Maria on her first "14er"


EJ and his MOOV team


Collage for Erika


Katie in Constance's studio for the Stutz Open House


Evan in Constance's studio for the Stutz Open House


EJ living on his own in Dallas now doing his own shopping


Erika attending one of the many weddings this summer


Landon & EJ on the deck of Boston Consulting in Dallas


Rachel & EJ


EJ & Rachel with Harry's owners Mary & Hershel


Evan at Purdue's Homecoming


Evan & EJ at Purdue's Homecoming


The Fishbowel at Harry's for Maggie's graduation


The crew at Mona's birthday gathering


Debbie & Katie at Scarlet Lane Brewery


The gals at wine & music in Fishers


The golf crew for the 55th IU Rugby Alumni reunion


Evan on the mic announcing the IU Rugby game


Katie & Disco at the Alumni weekend


Disco & Evan at Nick's


Evan with his IU football tailgating buds


The whole gang at the 55th IU Rugby Alumni Weekend


Evan with Katie & Mona in Aruba


Evan with Katie & Mona in Aruba


Evan & Katie on a booze cruize in Aruba


Mona, Annette, & Katie caught in the nets





Evan, Katie, Mona, Jim, & Annette at Baby Beach in Aruba


Evan on a beach in Varadero, Cuba


The Varadero beaches in Cuba are indeed beautiful


Evan's Bloomington High School 50th Class Reunion


EJ beat Rachel to win the 31st annual Coo Coo Christmas family game


Uncle Ed Barbone on EJ's MOOV


EJ & Rachel dressed up for something


EJ & Rachel in Vegas


Evan & Katie out on the Town


Evan & Katie on the beach


Evan, Claire, Chris, & Katie in Nashville


Evan & Katie with Bill & Julia at Zoobilation


Super Bowl pary at Pac's


Katie & Lynn with full bins of blueberries


Katie, Evan, & Erika in Denver


Rich, Lisa, Evan, Katie, & Mona at Carb Day


Evan & Katie watching the solar eclipse


Coop & Evan lounging in Eagle Creek


Evan & Katie at the new Urban Vines Winery


EJ's whole MOOV group in a Dallas St. Paddy's Day parade


EJ & Rachel in LA


EJ & Rachel at the Red Rock Amphitheater outside Denver


Using our new firepit for a neighbor gathering for James' 50th birthday
---