Author: Mostly Evan
2018 - Thanks for the memories !!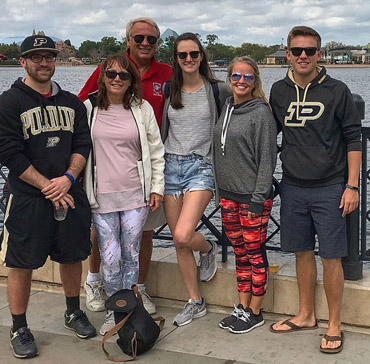 Season's Greetings to All! Our 15th Christmas newsletter follows:

Traveling to warmer climates started right away in 2018 with a trip to Puerto Vallarta meeting up with longtime friends Steve & Bonnie from Portland. Then, it was a week in Orlando with Mona...followed by Katie visiting her sister Linda in Houston. February took us to Grand Cayman again, this time with Coop & Deb.

Right: Jon, Katie, Evan, Erika, Rachel, and EJ at Epcot

Evan did his now seemingly annual weekend in Vegas for the USA Rugby 7s...followed by our for sure annual week at Royal Palms in Orlando this time with Erika, EJ, and Rachel. Mona made it with Jon.&nbsp Katie's sister Linda came as well.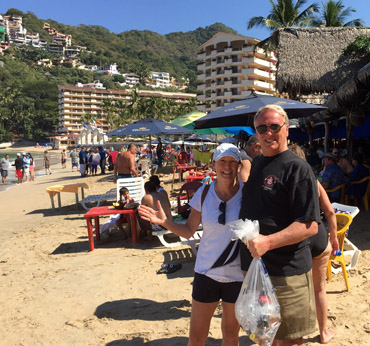 Traveling continued with a trip to Denver to visit Erika in her new condo there. Katie also decided to live life a little more venturously and went to Cuba with me in late June. In late July, we did a long weekend in Dallas with a few rugby buddies for the 2nd best party we've ever been to. In late September, we made a trip to San Francisco to catch Jeremy's wedding...Erika joined us there.
Left: Evan & Katie in Puerto Vallarta with a "Mexican cooler"
October brought two trips with Mona...a week in Orlando and then a week again in Aruba. We hit Bonita Springs (Naples area) in December to see Mona's new condo there. Christmas this year should again be in Detroit area with New Year's planned in Bonita Springs.
Next up are all the events/fests near us...like staying in the haunted Blue Room at the Story Inn, then later heading back to Story for a spirts/beer fest. We spent a long weekend showing our Belgian friends (Anne & Peter) around Indy once again...also taking them for a sail on Eagle Creek Reservoir.
Right: Linda, Katie, Mona, & Evan in Aruba
We missed the Indy 500 this year...heading to Nick & Nicole's destination wedding weekend in NW Michigan. Other Events: Zoobilation, Jimmy Buffett, Dave Matthews, Stutz Fest, EvGP at the IMS, and Winterfest.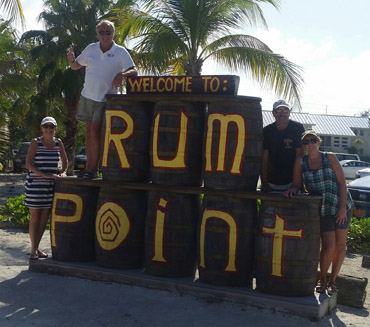 Enough with travels. Erika is still in Denver working for Avant Credit. Along with all her international travel (seeing the world), she's also enjoying all the outdoor sports both summer and winter in Colorado...including a season ski pass. EJ moved back to Indy from Dallas into a rental house in Broad Ripple...staying there a few months before buying a different house in Broad Ripple jointly with his girlfriend Rachel.
Left: Katie, Evan, Coop, & Deb in Grand Cayman
This last September, EJ proposed and Rachel is now his fiancee. EJ is currently involved in Rachel's father's business... switching from engineering to business development. To catch up on EJ's doings, it's been outlined fairly well in this newspaper article.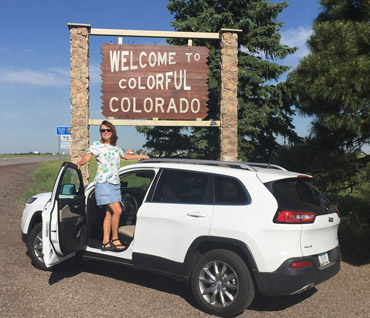 Katie is still handling the media presence for Des at Vida Aventura. Katie is also enjoying her new Jeep along with one of her children back in town. This year, Katie went through the experience of having her gall bladder removed...who needs that pesky organ anyway? Together, we've been losing a good number of balls on our local golf course...maybe lessons next year?
Right: Katie with her new Jeep on our way to Denver
I (Evan) am in my 15th year as IT Manager at VS Engineering...handling 120 employees in 5 offices part time. My main hobbies still include sailing during the summer at our local sailing club, scootering around the Indy area, and checking out every microbrewery also in the Indy area.
Below is a pictorial of many of the events throughout this last year.
We hope you and your family enjoy the Christmas season and most of all, be sure to enjoy New Year's Eve...Evan's favorite holiday!!
Evan, Katie, Erika, and EJ Williams
---
More Pictures

Evan & Katie in Varadero area of Cuba


Evan & Katie in Grand Cayman


Linda, Mona, Katie, & Evan in Aruba


Evan, Katie, & Linda watching the sun set in Aruba


EJ & Rachel at their new house in Broad Ripple


EJ & Rachel after bagging the leaves!


Erika & Torie in Vail


Liz, Maria, Rachel, & Erika sand surfing in Colorado


The Proposal


EJ & Rachel "working" at a Jiffy Lube Convention


Melanie, Joey, Christi, Jason, EJ, Rachel, Katie, Chris, and Evan in the Fish Bowl on their engagment evening (Homecoming at Purdue)


Emily, Rachel, & EJ at the Warrior Dash - Before


EJ, Rachel, & Emily at the Warrior Dash - After


Katie & Evan at Deviate Brewing for Evan's 69th


Katie & Evan tailgating at Jimmy Buffett


Evan, Katie, & Erika in San Francisco


Erika & Katie in San Francisco


Katie taking a break walking up the hills in SF


Katie hanging onto Erika at the top of the hill in SF


Evan relaxing on St Paddy's Day in Orlando


Evan hanging at a spirits fest in Story


Nick & Nicole's destination wedding in NW Michigan


Evan, Rachel, & EJ at Taylor & Sean's wedding


Rachel & EJ at Nick & Nicole's wedding


EJ with his battery-powered go kart


EJ & Rachel - Engagement photos


EJ - Joining Rachel's formal family photo


Katie trying to keep cool in Cuba


Katie & Evan at Margaritaville in Grand Cayman


Liz, Rachel, Erika, & Maria hiking in Colorado


View from Erika's tent in Colorado


EJ in the Warrior Dash


EJ & Rachel hiking in the Rocky Mountains in the Coors Brewery


EJ & Rachel in Hawaii


EJ & Rachel in Hawaii


Erika & friends biking near Breckenridge over Labor Day


Erika & friends at a wine tasting party in Boulder


Elise, Sophia, Erika, & more Chicago friends hiking in Boulder


Erika, Nicole, & Christine at a coworker's wedding in Evanston


EJ & Rachel in Hawaii


Erika on her trip to New Zealand


Our party crew: Scott, Jane, Evan, Mona, Dell, & Donna


Katie at the helm


Evan with his cocktail in Puerto Vallarta


Mona, Katie, & Evan in Aruba


Evan, Erika, EJ, Rachel, & Katie at Epcot


Katie, Jon, Evan, Erika, & EJ at Epcot


Test Track at Epcot


EJ, Rachel, & Erika surfing at Disney Springs


Mona, Donna, & Katie in Orlando


Evan & Katie at Margaritaville at Disney Springs


Maria, Katie, Erika, Ryan, and Joey on the balcony in Erika's condo


Wayne, Madonna, & Erika at Arrowhead


Mona & Katie at the timeshare in Aruba


Mona, Linda, Evan, & Katie at the beach bar in Aruba


Evan, Katie, Rachel, & EJ at Nick & Nicole's wedding


Evan & Katie at Zoobilation


Our party crew - Jane, Dell, Katie, Donna, Evan, & Mona


Party on the docks at the Columbia Yacht Club


Katie & Erika in the kitchen


Mona & Evan doing the dominos thing in Orlando


Another party crew - James, Evan, Katie, Craig, & Lynn at Urban Vines


EJ & Rachel during their move to their new house


Joe, Dike, & Evan at a mural of Disco in Dallas


Katie, Rachel, & Erika in their matching collegiate sweaters


Mona, Katie, Linda, & Evan in Aruba


EJ, Rachel, Erika, Katie, & Evan at the Terrell Party Barn for the IU/PU football game


The crew at EJ & Rachel's engagement at the amphitheater on Slater Hill


Katie musing about life in Grand Cayman
---