Author: Mostly Evan
2014 - Thanks for the memories !!
Seasons Greetings to All! We hope this Christmas letter finds you and your families well. It has been a good year for us, with many new adventures. May we share some of them with you…

Right: Katie & Evan at Ralston's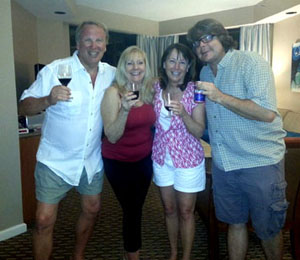 Spring Break was once again spent at our normal timeshare in Orlando. Donna Dine and (sometimes Dell) joined us along with long-time friend Mona Cordell who shared her timeshare with her sisters Janet, Carolyn, and Suzanne.
Left: Evan, Donna, Katie, and Rich in Orlando
EJ used our other week for his spring break in Ft. Lauderdale...heard he had a new record for friends crashing at that condo. Spring also brought a work-related trip for Katie to Las Vegas where Evan tagged along. He was able to get a nice visit in with IU rugby buddy, LJ.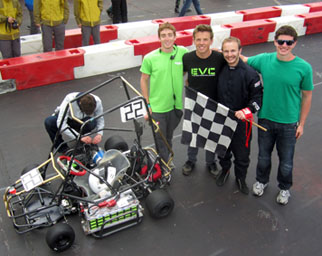 Once spring break concluded, EJ set to organizing yet another Electric Vehicle Grand Prix for Purdue, which brought 5 or 6 teams to our garage to finish work on the go karts before the big race at the Indianapolis Motor Speedway. For 4 days, Sunflower Court was the test site of electric vehicle technology. We apologize to our neighbors if any 4am test runs disturbed the peace. EJ's team came in 1st (out of 20-some karts) with Chip Challis at the wheel.
Right: EJ with his winning EV race team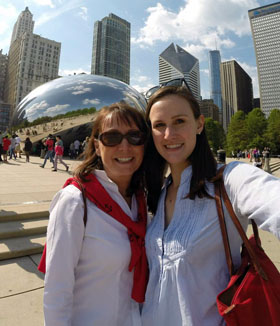 Come summer, EJ took off for California to intern at Tesla Motors in Palo Alto, while staying with his cousin Jeremy Rahe. Katie left NDX after working for them off & on since 1979…which let her enjoy a much deserved "summer off."
Left: Katie & Erika selfie at the Bean
Erika left Bank of America (Financial Analyst in Investment Banking) after her first year and picked up with FactSet Research Systems; a software company serving the financial industry. Erika also moved into Harbor Point condos in downtown Chicago, which is across the street from the Columbia Yacht Club. Needless to say, it didn't take her long to join that club and become part of the racing crowd on Lake Michigan.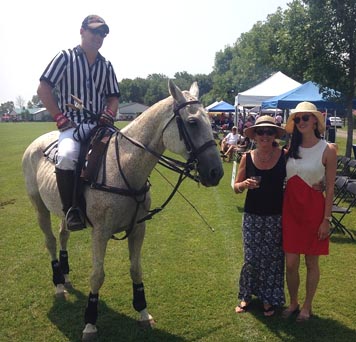 We started our summer with yet another Zoobilation serving as Katie's birthday present. Also, with both kids gone this summer, Evan & Katie finally got exclusive use of our sailboat. We also had the goal to hit all 29 microbreweries in the Indy area. Only 1 left to go! Somehow, we also managed to make 5 polo matches this summer…as well as Katie's first Mudathlon (one of hopefully many)!
Right: Katie and Erika at Polo in Zionsville
Fall started out with numerous tailgating adventures mostly to Purdue with Mona and a few at IU staying at Ski's. Celebrating their 30th wedding anniversary, Katie & Evan went on a trip to the Dalmatian Coast of Croatia. This trip was actually an inspiration started by Erika, as she had planned an adventure there first. We thought, why not us?!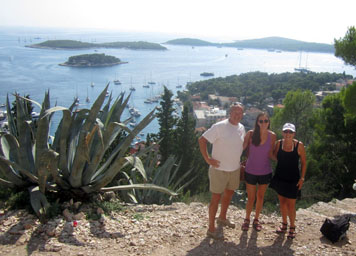 So, we met Erika in Chicago and flew to Croatia together. After spending a few days in Split (the second largest city and a port town), Erika took off on a sailing junket while Katie & Evan traveled around Dalmatia, exploring the walled city Dubrovnik and other islands. Evan & Katie celebrated their actual 30th anniversary date with a trip to Nashville, Indiana catching up with Barb & Duncan.
Left: Evan, Erika, and Katie in Croatia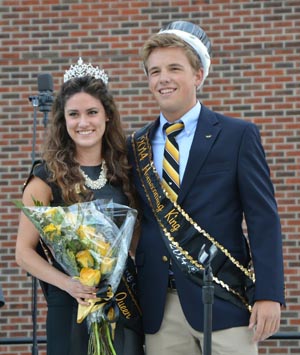 EJ headed back to West Lafayette for his senior year at Purdue (Electrical & Computer Engineering)…living off campus with 3 friends. He not only kept busy with his involvement in Mortar Board, Old Masters, Purdue Foundation Student Board, sailing team, Delta Chi, Electric Vehicle Club, and campus tour guide, he was also elected Homecoming King! Looks like growing up in an IU household didn't hold EJ back from becoming King of Purdue!
Right: Purdue Homecoming King EJ with Queen Meg
Also in the fall, Katie started substitute teaching in the Zionsville school system to bide her time until she figures out what's next. In early November, Evan & Katie made the trek to Chicago's Soldier Field for the Woodstock of rugby… the US Eagles took on the New Zealand All Blacks! First time ever in the United States that 60,000 rugby players were in one place! That town was rockin'.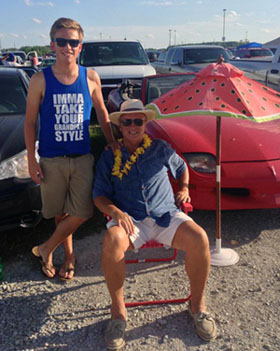 Left: EJ and Evan at Jimmy Buffett
This year, Evan notched his 10th year as the IT Guy at VS Engineering. He also continued helping coach Zionsville's high school rugby team, refereeing rugby games, and announcing the Zionsville home games. Other activities included Zionsville's Pathways Committee, high school After-Prom committee, and working the polls on Election Day.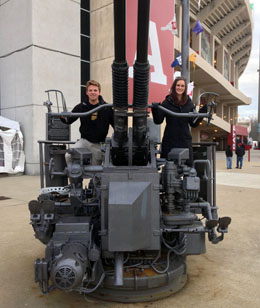 Right: EJ and Erika at the IU-Purdue football game
Thanksgiving this year had all four of us (and guest Bill Harrington) in Zionsville for a great home-cooked meal by Master Chef Katie. Christmas break will take us back to suburban Detroit to visit with Katie's extended family and mom. Then…it's back to Zville for a New Year's Party at Nick's place!!
We hope you and your family enjoy the Christmas season and most of all, be sure to enjoy New Year's Eve...Evan's favorite holiday!!
Evan, Katie, Erika, and EJ Williams
---
More Pictures

Katie snow blowing


Mountain of snow


Evan, Katie, and Nick at Jimmy Buffett


Erika, Joe, and Katie at the Mattingly family Bash


Katie & EJ moving EJ out of Delta Chi


SuperGirl Katie moving EJ's sofa into his fall apartment


Erika on her Croatia sailing trip


Erika's selfie with her GoPro


Evan & Katie with EJ at his Motor Board induction


EJ looking like a Purdue grad


Evan kickin' back, while...


Katie's at the Helm!


Katie, Evan, & Erika at Outlier's Brew Pub


Erika at Barbie's lake house on the 4th


Evan on da boat again


Katie's selfie


Katie & Evan at Zoobilation


Evan at Zac Brown concert


At Zoobilation with the "other" Dave & Mona


At Zoobilation with Marje & Tim


Katie playing dress up in the Jagermeister Tent


Katie measuring the snow bank


EJ landing in SF for his internship


EJ at Tesla!!


Evan, Erika, and Katie in Croatia


Katie & Mona with EJ at Purdue's Homecoming


EJ with his EV Go Kart buds


The EV Go Kart teams taking over our garage


The New Year's Pre-Party


Katie & Dorothy relaxin'


EJ's campaign poster


EJ with Old Master's pardner Jordan


EJ on one of Google's Bicycles on their campus


EJ cruisin' campus after his coronation


Erika taking a leap from Dabrovnik's wall-shore


Erika taking a GoPro selfie off the shore of Chicago


Pan of the EV Go Karts in our garage


Erika's domain in Chicago. Columbia Yacht Club's ship (the large cruise-type ship on the left).
Her condo is in the black high-rise on the right.


Evan & IU Rugby alums tailgating at the Eagles/All Blacks rugby game in Chicago


Evan & Katie doing a Mudathlon - The ol' BEFORE & AFTER


EJ & Meg with Mitch at halftime


EJ with Purdue Engineering friend Andrea who was also interning in SF
On a rooftop in Chinatown overlooking SF (During a DropBox company party)


EJ on Highway One on an excursion to LA


This year's Zionsville high school alumni game (Evan & EJ)
---